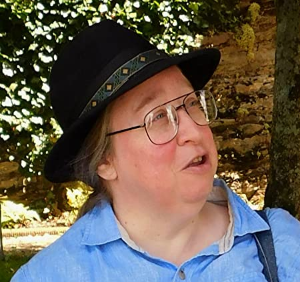 Jo Walton
Description
Jo Walton comes from Wales but lives in Montreal, exclusively in the first person. My plan is to live to be ninety-nine and write a book every year.
The question people most often ask is where to start with my books. I've published fifteen novels now, three poetry collections, a short story collection and a two essay collections -- and a travel memoir thingy. My novels are all different from each other, and really, where to start depends on what you like.
My most popular book is definitely my Hugo and Nebula award winning Among Others, which is a fantasy novel about a fifteen year old girl who reads science fiction. It's written in diary form, and set in Wales in 1979 and 1980. It's a book about what happens after you've saved the world -- Mori's sister sacrified herself and Mori became disabled in a fight to defeat their evil witch mother, and they won. Now she has to go to a new school, on her own, and cope with life and the ethics of doing magic at all, while reading for escape, solace, and ways of coping with the world.
Lent is a historical fantasy about Savonarola.It's set in Florence and Hell between 1492 and 1498. If you like historical fiction like Wolf Hall, this would be a good one to start with.
Or What You Will, which came out in July 2020, is about a character who lives in a writer's head and is afraid of what's going to happen to him when she dies. It's themes are story, death, and renaissances. It's a good one if you like metafiction, or if you've read several of my other books and liked them all. When I'm writing a book I always think it's kind of weird, and this one really is.
My Real Children won the Tiptree award in 2015. It's an alternate history -- well actually two diverging realities. It's about a woman with dementia in a nursing home who remembers two different versions of her whole life, and the book covers her whole life twice from the split in 1949 to 2015. This is a book many people enjoy, and it's the one I recommend as a starting point if you don't usually read SF or fantasy. If you want to buy one of my books for a relative, this is the one to go for. It's a crossover with women's fiction -- and in addition to the Tiptree it won the American Librarian Association RUSA award in that category. It also has a brilliant French translation and is my most popular novel in French. It is, as far as I know, the only alternate history of the EU.
My trilogyThessaly, consisting of The Just City, The Philosopher Kings, and Necessity, is about gods and philosophers through all of time setting up Plato's Republic, with ten thousand Greek speaking kids, and what happens after. The books follow three generations of the Republic, and feature Socrates, Apollo, and a ton of Platonic dialogue. They are about serious subjects -- like consent issues, and what is the good life, but they're also fun,
I have another trilogy, the Small Change books, Farthing, Ha'Penny and Half a Crown. These are alternate history, set in a world where Britain made peace with Hitler in May of 1941 after holding out for a year alone, and the US never came into WWII. The first two are set in 1949, and the third in 1960. Farthing has the form of a country house mystery, Ha'Penny is a theatre thriller, and Half a Crown is about a debutante about to have a season and go to Oxford, but in a dystopia. These are for people who like mysteries, or alternate history, and can cope with applicability. My favourite description of these is "like a stiletto wrapped in a buttered crumpet."
My World Fantasy award winning novel Tooth and Claw is the easiest to describe briefly -- it's a sentimental Victorian novel about dragons who eat each other. It's written like Trollope, and all the characters are dragons, worried about marrying well, and religious issues, and being promoted, or eaten. My favourite description of this is "simultaneously creepy and charming"
My first three novels are related -- The King's Peace and the King's Name are one book in two volumes, and they're Arthurian fantasy with a female hero. The Prize in the Game is a retelling of the Irish myth the Tain, which had been backstory to the first two, but which I wrote when I realised most people aren't all that familiar with the Tain. These are early work but actually I love them to bits. Also, they gave me the John W. Campbell award for best new writer when this was all I'd written, so some other people must think they're good. But I must admit I have figured out some stuff since.
What Makes This Book so Great is a collection of blog posts originally published on Tor.com, and so is An Informal History of the Hugos. WMtBsG is just a selection of good ones, and aIHotH is a set of posts I did about the Hugo awards, and the field generally, between 1953 and 2000. If you like the stuff about books in Among Others, or if you want to increase your TBR list by hearing me burble about how great things are, you want these.
Visiting Friends is a novella-length travel memoir about a road trip I took through Europe in 2019.
My real grown up website with info about her books, stories, plays and poetry is at http://www.jowaltonbooks.com There's a blog there as well. And I'm on Twitter as @bluejowalton and on Goodreads.
My Patreon, which is for poetry, and which supports my book buying, art viewing, and theatre going habits, and is the best way to support me directly (though buying my books is also great!) is at
https://www.patreon.com/bluejo
If you like my poetry, the collections are Muses and Lurkers (Rune Press 2001) Sibyls and Spaceships (NESFA 2009) and The Helix and the Hard Road (Aqueduct 2013). I'm hoping to be able to bring out a big collection in a year or so.
I have a short story collection called Starlings from Tachyon, which collects all my short fiction to date, as well as some poetry, and a play. I don't write a whole lot of short fiction -- this is absolutely all the short work I have written in the time I wrote all these novels. There's one story in the universe of the Small Change books, but otherwise nothing is closely related to anything, but you can see themes I'm interested in, like what happens after the ends and at the edges of stories.
Quick Links
Want more news about books ?
Sign up for our newsletter.

Books Kibo is a book recommendation website. This site recommends books based on readers' mood and emotions. Also by character and plot. If you want a site that lists the best parts of books, you most likely would appreciate book recommendation sites. You can find your next read through our AI powered book recommendation website. Books Kibo is more than a book suggestion site, it's an identity. that has its own major book awards that are decided by readers. Authors can register and add their books to promote worldwide by selecting the character and plot of their book. www.bookskibo(dot)com