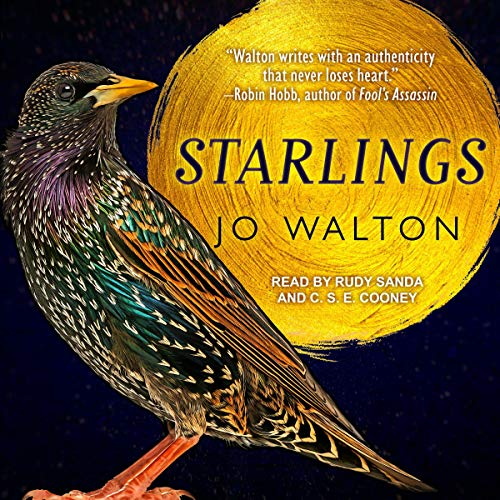 Narrated By : C.S.E. Cooney, Rudy Sanda
Audio Length : 7 hrs - 8 mins
Starlings
Share
Book Purchase Link
Mood & Emotion
Book Description
An ancient coin cyber-spies on lovers and thieves. The magic mirror sees all but can do nothing. A cloned savior solves a fanatically-inspired murder. Three Irish siblings thieve treasures with bad poetry and the aid of the Queen of Cats.
With these captivating initial glimpses into her storytelling psyche, Jo Walton shines through subtle myths and reinvented realities. Through eclectic stories, subtle vignettes, inspired poetry, and more, Walton soars with humans, machines, and magic-rising from the every day into the universe itself.
Quick Links
Want more news about books ?
Sign up for our newsletter.

Books Kibo is a book recommendation website. This site recommends books based on readers' mood and emotions. Also by character and plot. If you want a site that lists the best parts of books, you most likely would appreciate book recommendation sites. You can find your next read through our AI powered book recommendation website. Books Kibo is more than a book suggestion site, it's an identity. that has its own major book awards that are decided by readers. Authors can register and add their books to promote worldwide by selecting the character and plot of their book. www.bookskibo(dot)com