/
"A Fistful of Indian Rice" How I learned Goal Setting & Art of Winning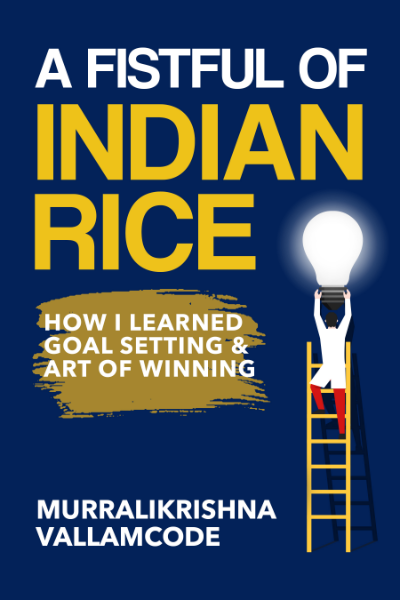 "A Fistful of Indian Rice" How I learned Goal Setting & Art of Winning
Share
Mood & Emotion
Larger than life Down to earth
No sexual content Explicit sexual content
Book Description
Do you mind reading a self-help book like FICTION: embedded with stories, humor, drama, emotions, and laughter? 'A Fistful of Indian Rice' is written in a nonchalant way to ensure a happy reading experience for brave hearts like you, who kept the flame alive within, even while going through the punishing storms called struggles and failures.
This is the era of going out and smashing opportunities' doors rather than waiting for them to knock. So setting the right goal is the winning mantra. In this book: Time management, SMART goal setting, prioritizing, SWOT analysis, and finding Ikigai—all those tested and proven life skills are covered in a very placid and lucid style.
But beware, this book does not guarantee you the stars, but rather stones: milestones, precious ones that will be cherished forever!
Thank you for getting your backpacks ready. Let us embark on a challenging but exciting journey that will undoubtedly guarantee the reactivation of your winning mode. A Fistful of Indian Rice' will empower you with the Power of Dream Management and the Art of Goal Setting.
A perfect gift for someone with the potential to grow, including YOU
Quick Links
Want more news about books ?
Sign up for our newsletter.

Books Kibo is a book recommendation website. This site recommends books based on readers' mood and emotions. Also by character and plot. If you want a site that lists the best parts of books, you most likely would appreciate book recommendation sites. You can find your next read through our AI powered book recommendation website. Books Kibo is more than a book suggestion site, it's an identity. that has its own major book awards that are decided by readers. Authors can register and add their books to promote worldwide by selecting the character and plot of their book. www.bookskibo(dot)com