/
THE WAY I SEE IT: A Head-to-Toe Guide To Common Orthopaedic Condtions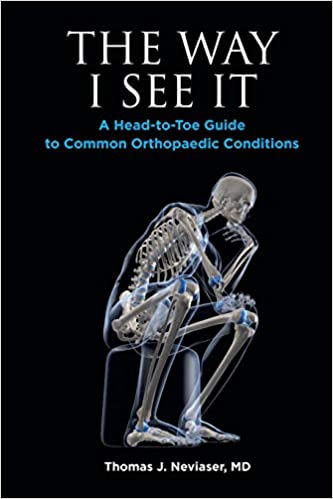 THE WAY I SEE IT: A Head-to-Toe Guide To Common Orthopaedic Condtions
Share
Book Purchase Link
Book Description
Dr. Neviaser, an expert in orthopedic surgery, has written this guide solely for laypeople who have bone and joint aches and pains. The reader will learn the anatomy and mechanism of their pains, diagnosis, medical terminology, and what treatments are available. There are 90 orthopedic conditions discussed from head to toe and 76 photos/diagrams/x-rays to help visualize bones, joints, ligaments, and tendons involved. Every joint is covered including the neck, low back pain, shoulder, elbow, wrist, hand, fingers, pelvis, hip knee, ankle, foot, and toes as well as sports medicine issues. There are chapters on osteoporosis, stress fractures, bone healing, fibromyalgia, orthopedic tests & studies, and what to expect on the day of surgery.

Patients will also learn what questions to ask their doctors and how to ask the questions to keep the doctor's interest. Empower yourself with this orthopedic knowledge so you are ready to give a good description of your joint or back symptoms to your doctor so he can more easily diagnose your problem.
Quick Links
Want more news about books ?
Sign up for our newsletter.

Books Kibo is a book recommendation website. This site recommends books based on readers' mood and emotions. Also by character and plot. If you want a site that lists the best parts of books, you most likely would appreciate book recommendation sites. You can find your next read through our AI powered book recommendation website. Books Kibo is more than a book suggestion site, it's an identity. that has its own major book awards that are decided by readers. Authors can register and add their books to promote worldwide by selecting the character and plot of their book. www.bookskibo(dot)com