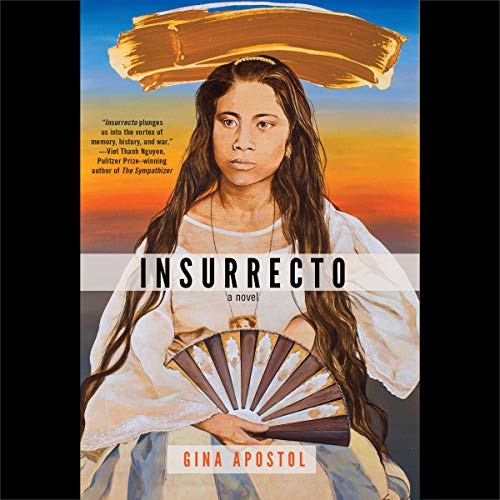 Narrated By : Justine Eyre
Audio Length : 6 hrs - 58 mins
Insurrecto
Share
Book Purchase Link
Mood & Emotion
Character & Plot
Book Description
Two women, a Filipino translator and an American filmmaker, go on a road trip in Duterte's Philippines, collaborating and clashing in the writing of a film script about a massacre during the Philippine-American War.
Chiara is working on a film about an incident in Balangiga, Samar, in 1901, when Filipino revolutionaries attacked an American garrison, and in retaliation, American soldiers created "a howling wilderness" of the surrounding countryside. Magsalin reads Chiara's film script and writes her own version. Insurrecto contains within its dramatic action two rival scripts from the filmmaker and the translator - one about a white photographer, the other about a Filipino schoolteacher.
Insurrecto masterfully questions and twists narrative in the manner of Italo Calvino's If on a Winter's Night a Traveler, Julio Cortazar's Hopscotch, and Nabokov's Pale Fire. But at its heart this is a novel of emotional power that grapples with our endless ability to erase the past. Apostol pushes up against the limits of fiction in order to recover the atrocity in Balangiga, and in so doing, she reveals the dark heart of an untold and forgotten war that would shape the next century of Philippine and American history.
Quick Links
Want more news about books ?
Sign up for our newsletter.

Books Kibo is a book recommendation website. This site recommends books based on readers' mood and emotions. Also by character and plot. If you want a site that lists the best parts of books, you most likely would appreciate book recommendation sites. You can find your next read through our AI powered book recommendation website. Books Kibo is more than a book suggestion site, it's an identity. that has its own major book awards that are decided by readers. Authors can register and add their books to promote worldwide by selecting the character and plot of their book. www.bookskibo(dot)com